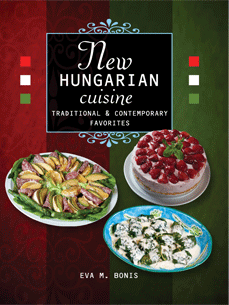 This book is unique. The goal of this book has been to create healthier, lighter and updated versions based on traditional Hungarian recipes, as well as create new recipes that incorporate current trends in Hungarian cuisine.

Eleven Chapters ranging from Hors D'Oeuvres to Desserts with a total of 177 recipes including annotations. Each Chapter begins with an introduction. Some of the recipes retain traditional ingredients such as paprika, sour cream, garlic, and onion, as staples in the Hungarian diet.
The origin of Hungarian paprika is also included. Some recipes are based on traditional ingredients, but updated to healthier modern versions. New recipes are created to follow the lighter side of Hungarian cuisine.
With such a diverse collection of recipes, there is something to please the culinary beginner or the experienced cook who enjoys the challenge of tackling an eye-appealing simple or complex recipe. Some recipes are my mother's, and some are my friend's tried and true dishes, but applied with my own fresh look.