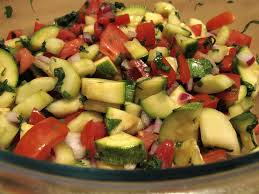 Zucchini, cucumber, tomato salad
Zöld tök, uborka saláta
Servings 6
Ingredients

2 medium zucchini -- peeled and diced
1/2 large cucumber -- seeded and diced
1 1/2 teaspoons salt
3 large plum tomatoes -- diced
1 clove garlic -- minced
1 pinch black pepper -- ground
2 tablespoons white wine vinegar
1 teaspoon Dijon mustard
1 teaspoon sugar
1 tablespoon dill -- chopped
1 tablespoon scallions -- chopped
1. In a small bowl, toss zucchini and cucumber with the salt; then spoon into a sieve. Place sieve
over a bowl and let the vegetables drain for about
30 minutes to one hour.
2. Squeeze vegetables with your hand to get all the moisture out, then add tomatoes to the vegetables.
3. In a small bowl, whisk garlic, pepper, vinegar, mustard and sugar and pour over the cucumber mixture. Stir in dill and scallion. Taste for seasoning. Serve chilled.


Use English cucumber for
this dish. This simple tangy
vegetable salad can be served
as a side dish with any roast. Line an attractive serving dish with lettuce and spoon salad over the leaves. As an option, you can add either a vegetable
or olive oil to the vinegar mixture, but it is tasty without the oil. The flavors will blend if prepared a day in advance.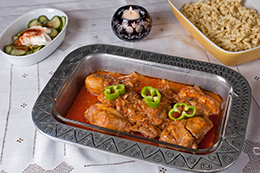 Chicken paprikash a la Eva
Paprikás csirke Eva módon
Servings 5
Ingredients
3 1/2 pounds chicken -- cut up
1 tablespoon Canola oil
1 large onion -- chopped
1 clove garlic -- minced
1 teaspoon paprika
1 tablespoon paprika paste
1 large tomato -- peeled and chopped
1 1/2 teaspoons salt
1 large green pepper -- seeded
1/3 cup sour cream, light
1 1/2 tablespoons flour
1. Cut up chicken into 8 portions. Remove skins from the pieces and let soak in cold water.
2. Preheat oven to 350 degrees F.
3. Heat oil in large pan add onion and garlic. Sauté until onion is translucent. Off heat, stir in paprika and paprika paste. Turn flame on, add tomato and salt.
4. Remove chicken pieces from the soaking water, add to paprika sauce, saving breast pieces. Stir until pieces are coated with the paprika mixture. Lay half of the green pepper between chicken pieces.
5. Cover pan with lid, bring up to a boil, and immediately place in the preheated oven. As soon as the sauce comes to a boil, reduce heat to a simmer. Simmer about 40 minutes, then add breasts, and the remaining half green pepper. Continue cooking for about 25-30 minutes longer. Remove green peppers and discard.
6. Meanwhile, in a small bowl mix the sour cream with flour. Remove pan from oven. There will be a thin sauce rendered from the chicken. Gradually whisk 1/2 cup of paprikash sauce into sour cream-flour mixture, stirring until it becomes a smooth paste. Immediately stir mixture into the pan and continue to cook a few minutes longer on the stove top. The sauce will thicken.
Serve chicken paprikas with dumplings or pasta.
Chicken paprikas is a staple of the traditional and new ungarian cuisine. By removing the skin from the chicken and using light sour cream, the dish is healthy, colorful, one of the most known and appreciated Hungarian specialties in the international culinary scene. There is no need to add water or any liquid to prepare the dish, as many of the recipes call for.
It will be juicy enough to pour over the dumplings or pasta. If you want to convert the paprikash to a casserole, cook some rice in salted water, and before serving, mix with the chicken pieces.
Any green salad would complement the dish. Traditionally, cucumber salad would be the choice. Paprika paste (Piros arany) is available in Hungarian specialty stores. If you cannot find it,replace with 1 teaspoon of tomato paste. Chicken cooked with the bones adds to the flavor, but if you prefer, use boneless pieces. Calories will be less per serving once the skin is removed from the chicken.